PropLIBRARY Subscription information and ordering page
PropLIBRARY is a tool for companies who want to respond to RFPs like their business depends on it
PropLIBRARY helps you figure out what to write in order to win, and along the way it teaches you how to maximize your company's win rate. You are welcome to explore the free side of PropLIBRARY and discover how relevant and useful it is. Our free content describes the theory and foundation behind our recommendations. A PropLIBRARY Subscription gets you access to the details you need to immediately put it all to work, like our MustWin Process documentation, Proposal Recipes, and online training. You can compare what's available for free with our premium content here.
Compare PropLIBRARY to taking a class, developing an organization-wide training program, the cost of the hours it will save you, where your organization can be after a few months of using it vs. without it. Multiply the increase in your win rate that PropLIBRARY brings by the value of your bids and compare that to the cost.
With a PropLIBRARY Subscription you get:
Access to premium content that makes it easy to turn theory into wins
Use of the MustWin Performance Support Tool to help, accelerate, and inspire your proposals
An instant process and resource library that explains what to do at every step
Checklists, forms, tools, and methods for accelerating and checking your work
Proposal recipes to accelerate and inspire your writers
Extensive online training (see the courses in the menu bar above)
Coverage of both the pre-RFP pursuit and post-RFP proposal phases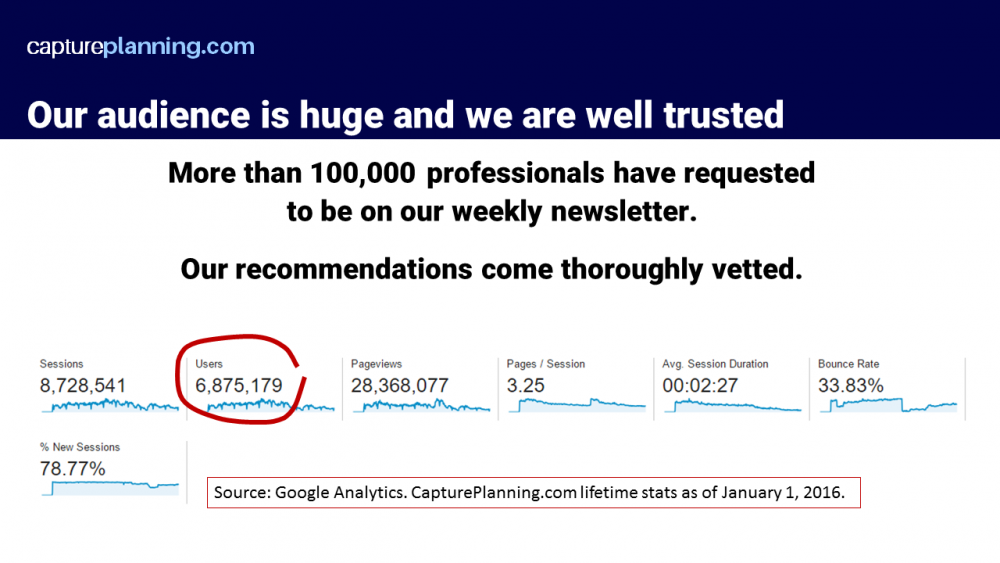 PropLIBRARY is ready off-the-shelf to immediately support the most sophisticated B2G and B2B pursuits. It is used to help small businesses compete with much larger firms, and it is used by billion-dollar companies to fill gaps in their processes and improve their win rates. PropLIBRARY is used by companies in all industries and over 170 different countries. The material it contains has been vetted by literally millions of visitors over the last 10 years. It's also highly customizable, so that you can integrate it with your existing processes and adapt it to the specifics of your business.

Who benefits from using PropLIBRARY?
For Executives, PropLIBRARY is a strategic tool that radically improves your competitiveness and maximizes your ROI in a measurable way. It makes it clear what you can expect from those working on the pursuit. It turns the art of business development into a measurable, metrics-based science. It's also an incredibly cost-effective way to improve the business development skills of your entire organization. In fact, it's much less expensive to use PropLIBRARY than it is to build something in-house.
It saves Proposal Specialists tons of time by giving you checklists, forms, templates, and approaches that you'll never have time to create yourself. Most importantly it gives you immediate solutions to critical problems you face. It's the fully documented process you want but can never quite finish "in between" proposals. It's also a way of getting badly needed training for everyone on the proposal (including yourself!) that's more timely and effective than sending them to a class.
For Technical Staff, Subject Matter Experts, and Non-Specialists PropLIBRARY will enable you to make your contributions to the proposal and do it on the same level as the specialists, without having to actually become a proposal specialist. It will guide you through what you need to know and what you need to do. It takes you straight to what's relevant so you can get the job done.
For Business Development and Sales Staff PropLIBRARY will help you close the sale. First it guides you through positioning and intelligence gathering. Then it guides the critical transition to the proposal, resulting in a document that is based on what it will take to win. It enables you to show measurable progress and tangible results.
What is included?

Prices include any upgrade credits automatically

Without a subscription

Just the free articles we publish

Number of users
1
1
Up to 5
Up to 50
Dashboard
Premium Content Items
223
223
223
MustWin Process items
163
163
163
Online Training
For one user
For up to 5 users
For up to 50 users
Online Training Courses
2 demo courses
17 courses, totaling 23:07 hours
17 courses, totaling 23:07 hours
17 courses, totaling 23:07 hours
Access to the MustWin Performance Support Tool

Yes, but you have no one to collaborate with

Yes, Access for 5 users

Yes, Access for 50 users
Proposal Recipe Topics
63
63
63
Proposal Recipe Ingredients
532
532
532
Starting Points
9
10
10
10
Topic Hubs
23
29
29
29
Files for downloading
5
50
50
50
Price (first year, before any upgrade credits)
FREE
$495.00
$2,000.00
$6,000.00
Cost to renew annually starting next year
n/a
$195.00
50%
50%
Upgrade Options
n/a
Upgrade to group or corporate subscription at any time
Upgrade to corporate subscription at any time
Add more users at any time
Upgrade Credit
n/a
Get full credit ($495.00) for your purchase when you upgrade
Get full credit ($2,000.00) for your purchase when you upgrade
n/a
Do you offer a money-back guarantee? Yes. If after all the above you still decide that it's not worth it or what you expected, we'll give you a refund. Full in the first 30 days, and prorated after that. In the past, we've hardly received any refund requests, but we've always honored them.
mobile