PropLIBRARY Subscription information and ordering page
PropLIBRARY is for companies who want to respond to RFPs like their business depends on it
PropLIBRARY helps you figure out what to write in order to win, and along the way it shows you how to maximize your company's win rate. You are welcome to explore the free side of PropLIBRARY and discover how relevant and useful it is. Our free content describes the theory and foundation behind our recommendations. Our premium content provides the tools, checklists, and guidance needed to immediately put our recommendations to work winning your proposals.
With a PropLIBRARY Subscription you get:
MustWin Now, our exciting new platform for discovering you win strategies and driving them into your proposals. It has the only web-based compliance matrix and proposal content plan builder in existance. It can also be used to bring structure to the pre-RFP pursuit and gather the input you need to win your proposals.
Access to our library of premium content that makes it easy to implement our recommendations. There are over a thousand items in our library providing tons of best practices, guidance, and inspiration, including dozens of files.
All the documentation for The MustWin Process, our approach to the capture and proposal process that enables small companies to compete with large ones, and large companies to fill the gaps they shoudn't have but always do...
Over 500 proposal ingredients in our Proposal Recipe library to help you figure out what to write.
Over 20:37 hours of professional training in our Online Training library. See the list of courses in the menu at the top of our site.
Any one of these is worth the subscription price, but as a package it's an incredible value that can deliver a massive ROI.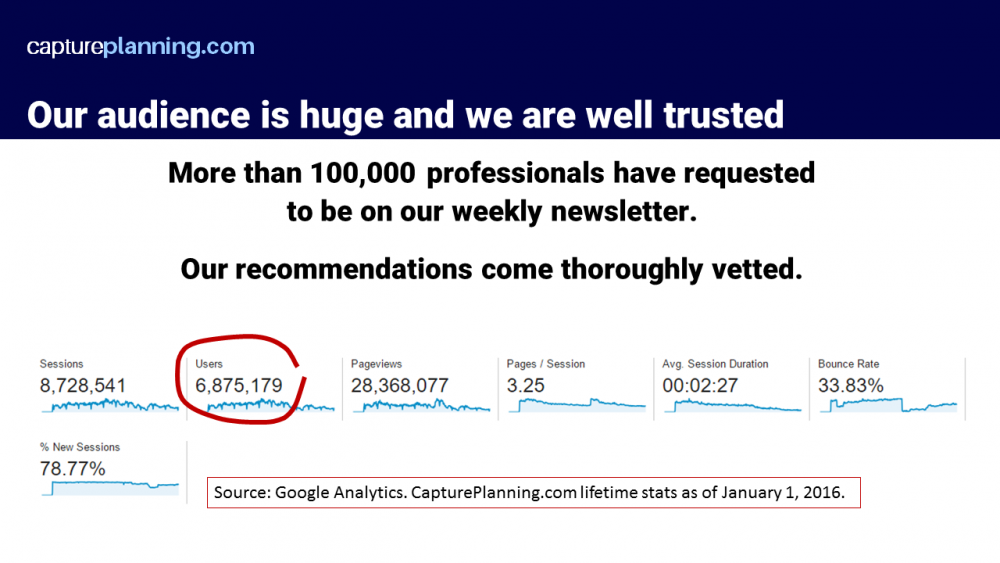 PropLIBRARY is ready off-the-shelf to immediately support the most sophisticated B2G and B2B pursuits. PropLIBRARY is used by companies in all industries and over 170 different countries. The material we publish has been vetted by literally millions of visitors over the last 10 years.
Who benefits from using PropLIBRARY?
For Executives, PropLIBRARY is a strategic tool that radically improves your competitiveness and maximizes your ROI in a measurable way. It makes it clear what you can expect from those working on the pursuit. It turns the art of business development into a measurable, metrics-based science. It's also an incredibly cost-effective way to improve the business development skills of your entire organization.
PropLIBRARY saves Proposal Specialists tons of time by giving you checklists, forms, templates, and approaches that you'll never have time to create yourself. Most importantly it gives you immediate solutions to critical problems you face every day. It's the fully documented process you want but can never quite finish "in between" proposals. It's also a way of getting badly needed training for everyone on the proposal (including yourself!) that's more timely and effective than sending them to a class.
For Technical Staff, Subject Matter Experts, and Non-Specialists PropLIBRARY will enable you to make your contributions to the proposal and do it on the same level as proposal specialists. It guides you through what you need to know and what you need to do.
For Business Development and Sales Staff PropLIBRARY will help you close the sale. First it guides you through positioning and intelligence gathering. Then it guides the critical transition to the proposal, resulting in a document that is based on what it will take to win. It enables you to show measurable progress and tangible results.
Subscription Options
&nbsp
Option 1: Pay a little up front and a little per month until you decide to cancel
Use this handy calculator to get instant pricing. Quantity discounts kick in automatically!
Click the "Buy Now" button and checkout. You'll have acccess immediately.
This option substantially lowers your risks and up-front costs. Plus you can easily add or drop users.
Are you a consultant? A significant portion of our subscribers are consultants. Consultants can provide MustWin Now access to their clients and adjust the number and names of users as needed. There are many ways to deliver services based on MustWin Now, and it's a great differentiator.

Option 2: Pay once per year with no monthly invoicing
Click the button to the right and checkout. No calculator needed. This subscription is annual. Next year's renewal will only be $195.

Option 3: Get it for a single proposal
You can try PropLIBRARY and MustWin Now on a single proposal. This is a concierge service, so we help you configure it and make sure you get the most out of it to maximize your chances of winning your proposal.

Option 4: Schedule a demo or ask questions
Or use the calendar below to schedule a demo or a conversation:
Do we offer a money-back guarantee? Yes. If after all the above you still decide that it's not worth it or not what you expected, we'll give you a refund. With the new pricing model, your risks are much lower and you can easily cancel at any time.
mobile