PropLIBRARY Subscription information and ordering page
PropLIBRARY is for companies who want to respond to RFPs like their business depends on it
PropLIBRARY shows you how to maximize your chances of winning. You are welcome to explore the free side of PropLIBRARY and discover how relevant and useful it is. Our free content describes the theory and foundation behind our recommendations. Our premium content provides the tools, checklists, and guidance needed to immediately put our recommendations to work winning your proposals.
With a PropLIBRARY Subscription you get:
MustWin Now, our platform for discovering your win strategies and driving them into your proposals. It has the only web-based compliance matrix and proposal content plan builder in existance. It can also be used to bring structure to the pre-RFP pursuit and gather the input you need to win your proposals. MustWin Now is the future of the proposal process.
Access to our library of premium content that makes it easy to implement our recommendations. There are over a thousand premium items providing tons of best practices, guidance, and inspiration.
Over in 500 items Proposal Recipe library to help you figure out what to write.
Over 20:37 hours of professional training in our Online Training library. See the list of courses in the menu at the top of our site.
Any one of these is worth the subscription price. PropLIBRARY increases your probability of winning orders of magnitude more than it costs and delivers a massive ROI.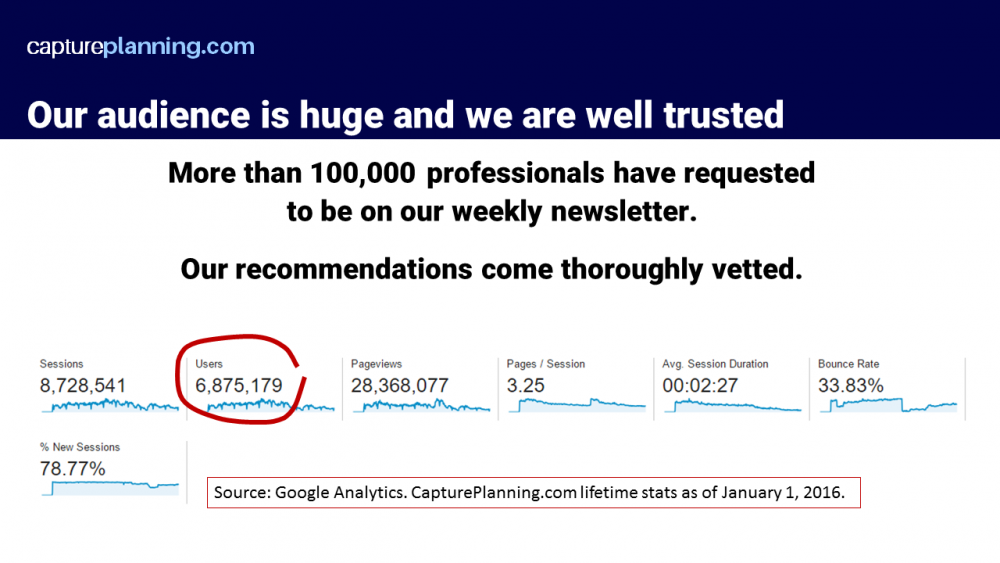 PropLIBRARY is ready off-the-shelf to immediately support the most sophisticated B2G and B2B pursuits. PropLIBRARY is used by companies in all industries and over 170 different countries. The material we publish has been vetted by literally millions of visitors over the last 10 years.
How to purchase a subscription
Use this handy calculator to get instant pricing. Try different numbers to provide access for your entire team. Quantity discounts are applied automatically!
When you are ready, click the "Add to cart and checkout" button. You'll have acccess immediately after you check out.
Are you a consultant? A significant portion of our subscribers are consultants. Consultants can provide MustWin Now access to their clients and adjust the number and names of users as needed. There are many ways to deliver services based on MustWin Now, and it's a great differentiator.
Training to improve your team's proposal writing
This training is completely based on doing exercises and improving proposal writing skills. You can choose which exercises to include based on where you'd like to improve.The training will include a session to introduce the topic and the exercises, and a session to review the exercises, with participants completing the exercises in between. Participants get to see comparisons and contrasts between the approaches taken by other participants. Each additional exercise will add another session. Sessions are 1 hour and are scheduled at mutually convenient times. You can have as many people participate as you'd like, but we can only review exercises from up to 6 participants per session. After you make your purchase, we'll get in touch to schedule your sessions.
PropLIBRARY Subscribers get a discount of $295 for each topic added. You can easily save more than your subscription costs.
As a subscriber your pricing was discounted !
Get your past proposals reviewed and learn how to improve your competitiveness!
Combined pages of proposal and RFP copy you'd like us to review.

Include as many proposals or parts of proposals as you want, up to the number of pages you select. Also include the relevant parts of the RFP if you want us to assess whether the instructions were followed or whether the proposal was optimized against the evaluation criteria. Increase the quantity to add more pages. Once you complete your purchase we'll get in touch to transfer the files and schedule the review.

The deliverable will be an online review debrief with a presentation of our findings that we'll email to you after. During the debrief we'll discuss the findings, the underlying causes, and what you can do to improve your future proposals.
Contact us for more information
PropLIBRARY Subscribers get a discount of $295 for each batch of 100 pages. You can easily save more than your subscription costs.
As a subscriber your pricing was discounted !
Questions?
If you have needs that are larger or more complex than these forms support, then let's talk about what you really need. We can tailor a solution based on your specific challenges to improve your win probability and maximize your ROI.